AIOLI, a name inspired by Annalize and Ollie, is a range of sauces and condiments created by our world-class chef duo from Annalize Catering. Annalize and Ollie have spent years bridging the gap between home comfort and professional catering. Exuding an abundance of passion for food and using techniques that display a mastery of the art of elevated home cooking, their hope is that Aioli can add a touch of magic to your food, and become a favourite in your kitchen.
Our Passion
The Aioli products are inspired by years of cooking beautiful, wholesome food - a collaboration built on a shared passion for all things delicious. We believe that a sauce or condiment can take a meal from ordinary to extraordinary.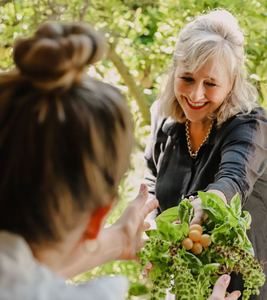 Our Process
At Aioli, we take all the necessary measures to ensure that each jar is sterilised and packed tightly before it is delivered to your home. Our products are made with great care and love. We are so excited to share them with you.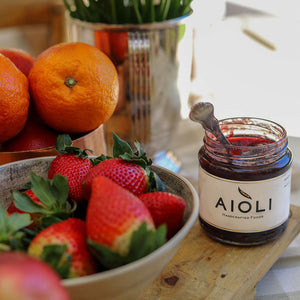 Our Products
The quality of our ingredients is of utmost importance. We believe in keeping it simple to allow for the fresh produce to shine. Most ingredients are sourced locally in support of smaller businesses from Cape Town and its surrounds. 
Having tried the Green Chilli and the Truffle Aioli - I'm a convert! I opened them on Friday and they are half gone already. Can't wait to try the Red Chilli this weekend!

Kerry, Cape Town
I think we have a problem - we go through your chilli like water. Just saying, best product on the market!

Claire, Cape Town
I eat the Truffle Aioli out of the jar with a spoon! Totally smitten with everything Aioli - every product is world-class! You have to try it to know what I'm talking about :)

Brontë, Cape Town